Each time we come to Paris we visit the kitchen suppliers who are huddled in the Las Halles area of Paris.  Le Halles used to be the "Belly of Paris" a term made famous by Emile Lola in his book titled Belly of Paris. Unfortunately the "belly" no longer exists in it's former form and the suppliers of meat, fish and vegetables have moved outside Paris to Rungis. The Rungis wholesale market officially opened on 3 march 1969, and has been growing ever since.
There are tours of the market, however, this person, tried as he may, has never been able to successfully book a reasonable priced tour of the market.  So if you are up to it try booking a tour; they range form an affordable 89€ to 300€.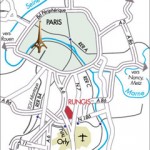 The good news is the kitchen shops have remained in Les Halles and no trip to Paris for a foodie would be complete without a visit to one or all of the shops.
(See list of US Suppliers at the end of this post)